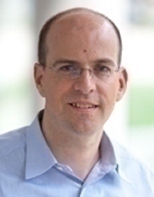 "Interleukin 1 Receptor Accessory Protein 1 (IL1RAP) as a Novel
Therapeutic Target in Acute Myeloid Leukemia and Myelodysplastic
Syndrome"
Year: 2012
Institution: Albert Einstein College of Medicine of Yeshiva University
Principal Investigator: Dr. Ulrich Steidl
Research Category: Basic Science
Acute myeloid leukemia (AML) and myelodysplastic syndrome (MDS) are
malignant diseases of the blood system with poor clinical outcomes. AML and
MDS arise from malignant blood stem and progenitor cells which are resistant to
therapy. Utilizing a new strategy of molecular analysis of fractionated stem and
progenitor cells from AML patients we have recently discovered overproduction
of a specific molecule, "interleukin-1 receptor accessory protein" (IL1RAP). We
also found that high IL1RAP levels are associated with poor overall survival in
multiple large cohorts of AML patients. We will therefore, 1) test whether
targeting of IL1RAP can be used as a novel therapeutic strategy to inhibit
growth of leukemia cells from patients with AML and MDS; 2) determine whether
IL1RAP characterizes leukemia-initiating cells in AML/MDS patients and could
serve as a diagnostic marker. In summary, this study will provide functional data
for the suitability of IL1RAP as a novel therapeutic, diagnostic, and prognostic
target in AML and MDS. The results will provide the basis for further studies of
the role of IL1RAP in leukemias and future targeting of IL1RAP in patients with
AML and MDS in clinical studies.
The above project description has been supplied by the Principal Investigator